Page 7
A New Tube
I had mentioned the condition of the bore of my M1 Garand during my discussions with Lane Smith as we spoke about my rifle and he suggested I do a 'bullet test' on the muzzle.
To do this test Lane had me simply drop an unfired bullet into the muzzle of the M1 Rifle and see how far in it would go. If the muzzle accepted the bullet as far as the case neck (or nearly to the case neck) the muzzle would be history.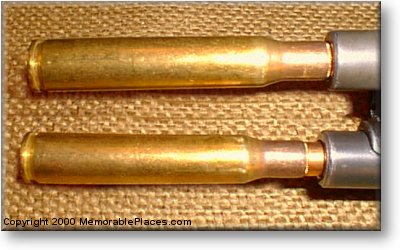 As illustrated above I performed the test that Lane described and the bottom line was that the barrel was at or near the reject point. The quandary was whether or not I should actually ask about a replacement since the barrel was the original barrel which had been manufactured for this rifle. Since M1s Garand Rifles went through a fair number of rebuilds it is actually a little more rare to find an action with its original barrel intact especially one from before World War II.
Later, I mentioned the bullet test and the condition of the muzzle to CMP's Nina Michaels when I spoke to her about the stock.
Nina was very professional and accommodating. If I was not happy she gave me the impression that CMP was not happy either. During our discussion I was given a tough choice to make. Nina offered to take off the original M1 Garand barrel (one that had been with the rifle since it was made 58 years before) and exchange it for another one or I could keep it 'as is'.
On December 10th I made the decision that since I'd bought the rifle, in part, to shoot in friendly 'matches' with my Dad that I'd send the rifle back for the barrel replacement that Nina had offered a couple days before. I inquired about the cost of having them send back the old barrel so that I could keep the rifle and its original barrel together and Nina said it would be 50 to 100 dollars.
I agreed to buy back the old barrel and on December 11th I packed up my M1 Garand rifle and sent it back to CMP with a note thanking them for fixing my 'as is' weapon and gently reminding them to send back the barrel for which I'd pay them later.
Home Again
Well it took less than a week for CMP to change the barrel and return it. I was pretty darned impressed. On December 17th or 18th I received another elongated box, and inside I found my old friend. The CMP had also dropped the old barrel in with it and Nina had written "Merry Christmas from CMP South" on a piece of paper that was enclosed in the box.
What I did not find was the invoice I expected for the barrel. So, being a little too honest for my own good, I called Nina and asked her how to make out the check and specifically where to send it. Nina indicated that there'd be no charge for the old Garand barrel and that I was welcome to keep it. This unexpected gesture was very kind and was a wonderful surprise.
The early Christmas did not end with the inclusion of a new barrel however. I field stripped the rifle and noted that a couple of parts had been changed during my rifle's stay with the CMP. The trigger group and a couple of other minor parts had been switched from a Winchester to a more correct Springfield. Talk about a class act! I was pretty happy.
During this time I had started working 16 hour days and so I had no time to get up to the rifle range. My father did however. He wasn't about to wait till January to see how HIS CMP M1 Garand rifle shot. A few days after my rifle went back to the CMP, he took his up and burned up some of our CMP ball ammo.
Sadly, I did not get to go with him that day, but the target he brought back as well as the stories were pretty impressive. He had gotten a lot of attention at the range and his M1 Garand had performed flawlessly. "Like it was brand new!" He was very happy indeed.
So I bided my time and waited till I got a few hours free so I could go test my new rifle... Christmas passed, then New Years....
Damnit.........
FINALLY in early January my prison sentence of 16 hour workdays ended and I was able to get up to the range for the first time with my rifle. Unfortunately things did not go as well as had been hoped.
To make a long story short the old rifle with the newly changed barrel simply refused to cycle using any ammo except for some rather hot Winchester loads!
CMP Ball ammo, CMP Match ammo, Talon ammo, and Remington ammunition would either fail to eject or fail to feed. I was pretty disappointed. Basically my M1 Garand was trying to pretend it was a bolt action firearm instead of the semi-automatic it was born to be!
After the swift rebarreling and the stock replacement experience I had determined to not bug CMP again. They had been so responsive, even pro-active before - and I did not want impose upon them again with my 'as-is' gun. I determined to solve this problem 'on my own' using the resources I had available to me outside of the CMP.
First - I began by asking questions on the forums. I printed out many of the replies so I could try to solve the feeding / extraction problem.
Second - I had the parts miced out. Unfortunately there was not to be an easy answer there as I discovered that all were pretty much within tolerance.
Finally - I decided that since Dad's M1 Garand rifle was nearly flawless and had never failed to function that I'd borrow it and start swapping parts until I came up with the answer. At that point I planned to simply order a replacement 'whatever' and be on my way.
So... one afternoon I pilfered Dad's M1 GARAND from his safe, grabbed a hundred rounds of various kinds of ammo and again found myself up at the range trying to figure out what was wrong with my rifle.
It was a long afternoon....
Please feel free to explore the other sections of this website:
[About This Website] [How I Maintain My M1s] [CMP Program - Our Experience]
[Our CMP M1 Garand Rifles] [CMP Ammunition] [M1 Parts Photographs & Nomenclature]
[M1 Garand Accessories] [A Little Important Humor] [Links to Other M1 Garand Sites]
This page was last updated on: June 16, 2007
In order to use this site you must read and agree to what is on our Legal Page.
Copyright 2000 - 2007 © by MemorablePlaces.com