Preface: And So It Began... And So It Ended.. And So It Endures
One day in 1999 or was it 2000 I decided to place a few photos online of our newly obtained CMP M1 Garand Rifles. Those few photos turned into several pages of photos... those several pages of photos then turned into what you see here in the OUR GARANDS section... a detailed account of our experiences in 1999 and 2000.
Of course one thing led to another and these pages turned into "Charles M1 Garand Newbie Site" which grew to a mamouth site of well over 400 pages and countless pictures. In 2002 the Civilian Marksmanship program obtained several sections of the site. First they got the Nomenclature and Accessories sections and later that year they obtained our fantastic Field Stripping, Detail Stripping, and Re-Assembly sections we also had the honor to recode their front page to correct some technical problems for them.
What remains on this site is what we started with... basically the explanation of our experiences those years ago. We also have put in extras like:
...but what follows in THIS section is our experiences on obtaining an M1 Garand Rifle from the CMP. Again. please keep in mind that the bulk of the following page was written right after we received these rifles in 1999/2000.
All photos in this section can be clicked for larger images.
Into The Breach...
One of the neatest things that our family has done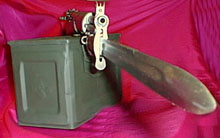 together this last year was to order a couple of M1 Garand rifles from the Civilian Marksmanship Program. In fact we would very much like to be able to afford a couple more and should our budget allow it we will be ordering 2 more CMP M1 Garand Rifles this year!
[2003 Note - that did not happen...]
We ordered two 'Service Grade Rifles'. This page is here for the sole purpose of showing our rifles off a little. If you are curious about what it is like to order an M1 from the CMP we have a page posted about our experience with that as well.
Many of the photographs on the following pages may be clicked to see a larger image.
When we ordered our rifles we made 2 special requests: 1) That one Garand was a WWII rifle. 2) The the other was a 'shooter' and from either the Springfield or Winchester Makers.
Well we got exactly what we asked for.
[2003 Note: In 1999 you could not specify which maker you wanted 'officially' instead everything was 'luck of the draw'. Now you can specify makers and there is a LONG wait for some of them.]
READ THIS:For obvious reasons I do NOT recommend any of these procedures. This section covers, for good or for ill, how *I* work on my Garand Rifles. I have not been trained by any experts and I may be doing something dangerous to myself or my rifle. Do NOT try any of these techniques yourself. Get a competent and certified gunsmith to help and instruct you you. By continuing further you must agree to indemnify and hold harmless all persons or companies connected with this website and affirm that you are going to use this information solely as a window of education into how the writer works on his own property and as such you understand that it may be a window into a fools paradise.
If you have any questions or corrections please feel free to write me.
Please feel free to explore the other sections of this website:
[About This Website] [How I Maintain My M1s] [CMP Program - Our Experience]
[Our CMP M1 Garand Rifles] [CMP Ammunition] [M1 Parts Photographs & Nomenclature]
[M1 Garand Accessories] [A Little Important Humor] [Links to Other M1 Garand Sites]
This page was last updated on: June 16, 2007
In order to use this site you must read and agree to what is on our Legal Page.
Copyright 1999- 2003 © by MemorablePlaces.com