Page 10
AS IS?
When we ordered our M1 garand rifles from the CMP there was a statement (which remains on the application at the time of this writing [February 2000]) indicating that when the Civilian Marksmanship Program sells you an M1 Garand rifle you must agree to the following:
"Part C: No-Warranty Acknowledgment.
I acknowledge that the rifle which I am applying to purchase is a military surplus arm in used condition and is sold to me strictly "AS IS", WITH NO WARRANTY EXPRESS OR IMPLIED. I understand that:
1. This rifle may not function correctly or be safe for me to use in the condition in which I receive it.
2. This rifle is not to be fired until it has been disassembled and cleaned, thoroughly examined by a competent gunsmith familiar with its internal mechanism and safety features, and any unserviceable parts replaced or other deficiencies corrected.
3. The use of ammunition that does not meet U.S. military standards in this rifle can be dangerous."
Originally this gave us some pause for concern. Several hundred dollars for a rifle that may not work IS certainly taking a chance. I have heard that these statements on the application have actually put some people off of the CMP program.
For what it is worth, my experience leaves me with the impression that this should not cause potential customers undue concern.
CMP Service & Sales - The Bottom Line
What I am about to say should not in any way change the decision you make for yourself. I do not presume to suggest that my experiences are the norm nor do I suggest that my opinions should be considered advice in any way. Further, since my experience are simply my own, the opinions and impressions I am left with certainly do not reflect anything official from CMP. I do not speak for them nor suggest that they have changed their official stance. I am just a happy customer and in no way do I offer advice or speak for CMP.
So much for the disclaimer silliness.
Having said that, (as you have read on previous pages), it is my experience that the CMP has gone far beyond my expectations to make their customers happy. Obviously in my case, they extended well beyond the 'as-is' clause of the application in order to make me happy. (In one case going so far as to fix a problem that I didn't even consider a problem! [The stock pinning.]) In addition, I alerted them to a more general problem that had little to do with us or our order and Orest Michaels saw to it that this situation too was secured within 2 or 3 working days. (No I wont go into details - please don't ask!)
Certainly the CMP is more responsive and more quick to act on problems than any firearm sales company that I have ever dealt with. In fact, CMPs service is right on par with the very best customer service that I have ever experienced from any non-local company of any kind.
The turnaround time for CMP repairs is very rapid. Though our initial M1 garand Rifle order did take some time to process, once the rifles were in our hands when problems cropped up they were dispatched - each and every time - with truly commendable rapidity. Everything that CMP did was done via one or two day FedEx shipments. After all the problems that I experienced with the second rifle, I am sure that any profit that they had on our entire order was absorbed by the freight costs alone. The CMP folks never mentioned this and never asked me to consider their point of view during my interaction with them. They just wanted me happy.
Their order forms may say 'as-is', but in my experience the CMP has certainly proved to my personal satisfaction that even with such a clause in place they still want their customers to be pleased with their little piece of history.
I am.
In part, because of CMPs truly above-and-beyond customer service, and because of their outstanding turnaround time and the fact that they are allowing citizens to save and be custodians of a little piece of important American history, I took the time to produce this M1 garand website. If my efforts sell a couple of M1 Garands for them then the CMP has certainly earned it. I also do not hesitate to tell folks at the rifle range about the Civilian Marksmanship Program when they start eyeing my 60 year old battle rifle.
I do not impress easily. The Civilian Marksmanship Program has however not only impressed me by their actions but have won a friend and a repeat customer. This summer if money issues work out, we will get a third M1 Garand Rifle, this time for my wife to use.
As my parting word on this I offer the following: Consider getting one of these historic M1 Garand rifles while you still can. If you keep the right mindset they won't disappoint you. The CMP is friendly and easy to deal with.
In my opinion, for 400 dollars you really can't go wrong with a Civilian Marksmanship Program rifle.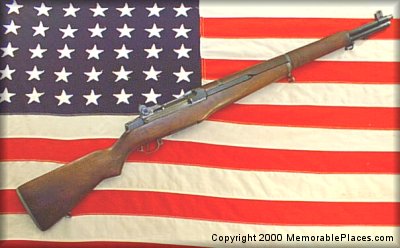 Feel free to write me with comments or questions.
Charles
Please feel free to explore the other sections of this website:
[About This Website] [How I Maintain My M1s] [CMP Program - Our Experience]
[Our CMP M1 Garand Rifles] [CMP Ammunition] [M1 Parts Photographs & Nomenclature]
[M1 Garand Accessories] [A Little Important Humor] [Links to Other M1 Garand Sites]
This page was last updated on: June 16, 2007
In order to use this site you must read and agree to what is on our Legal Page.
Copyright 2000 - 2007 © by MemorablePlaces.com