A Few Final Words:
The white lettering as explained here is pretty rugged, but it is not permanent. It may be removed by a number of means including a scrubbing with solvent or alcohol with a toothbrush.
Under normal circumstances however it is pretty hardy. The photo below shows a barrel date which was marked with this process 2 years and hundreds of rounds of ammunition ago. Several cleanings later this marking is still quite visible despite the fact that it is usually covered in a light coat of grease.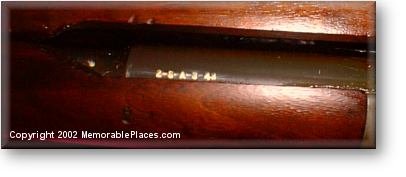 Some folks go overboard and mark drawing numbers, heat lots, and any other number of items. We do not know who these people are but it takes a LONG time to use up a whole China Marker.
We hope you have enjoyed this section of the M1 Garand An American Companion In Three Wars website. If you have any questions, comments, or corrections we DO want to hear from you! Please click the Contact Us button on the right.

Pretty Aint It?
Please feel free to explore the other sections of this website:
[About This Website] [How I Maintain My M1s] [CMP Program - Our Experience]
[Our CMP M1 Garand Rifles] [CMP Ammunition] [M1 Parts Photographs & Nomenclature]
[M1 Garand Accessories] [A Little Important Humor] [Links to Other M1 Garand Sites]
This page was last updated on: November 26, 2003
In order to use this site you must read and agree to what is on our Legal Page.
Copyright 2000 - 2002 © by MemorablePlaces.com