Page 3
Hurry Up And Wait!
It is strange to note the symptoms appear in otherwise 'normal' people when they are waiting for the Civilian Marksmanship Program to fill their orders. Commonly known as Garanditis, the first signs of affliction appear shortly after ordering. Time seems to move just a tad slower for some patients, but for others it seems to absolutely CRAWL. Friends of mine who have ordered M1s report perking up their ears at the sounds of a delivery truck barely 72 hours after mailing in the application. Others actually call CMP within a week asking where the order is. tsk tsk tsk...
Truthfully I was not THAT bad but I certainly was enthusiastically waiting...
To their credit The CMP seems to understand the anticipation phenomenon and they allow people who send in applications to also enclose a self addressed stamped envelope with their order. When the CMP receives your order they will rubber-stamp this card and send it back to you. This practice is intended, I suppose, to ameliorate some of the 'did they get it' anxiety.
We took them up on their return-mail offer and on November 9th my father received his reply card in the mail. The rubber stamped writing on it read:
"The CMP has received your documentation. Please allow 2 weeks before calling for status. Thank you for your patience and your order. CMP"
"Two weeks?" I wondered aloud. "I gotta wait two whole weeks before I can call and find out the serial numbers?" Well I determined that I'd do the best I could to be a man about it and suck up the torture of such an extraordinary amount of self-governing. I promised myself I'd refrain from bugging them for as much over ONE week as I could... no really... I would... I would TRY to anyway...
In my opinion it is nice that the CMP tacitly approves of people calling to learn their serial numbers or to check on their order status after this 2 week timeframe. This knowledge allows customers to begin assembling ancillary items to go with their M1 from the period it was made if they desire. It also piques the anticipation and curiosity while spawning discussions on many of the forum sites.
Much to my credit and thanks to my substantial self-control, (*cough*) I did in fact make it a full week before I broke down and called CMP to obtain our serial numbers. I was impatient in part because I wanted to look the serial numbers up to determine when the rifles were made. I also wanted to determine which book I should consider buying as the two most prominent books on the M1 available at the time were quite different and were delineated by era of original M1 production.
So... on November 16th I again telephoned the CMP and talked with (I believe) Jan who let me know that one of the rifles had already been assigned. She informed me that this rifle was serial number 225,xxx.
HOT DOG! I was excited! One of the first quarter million+ Garands ever made! Not bad considering there were arguably about 5,468,772 M1 Garands ever produced. Having the serial number also allowed me to learn that 'my' rifle was produced somewhere around April of 1941 - before hostilities had broken out and when Springfield Armory was bucking hard trying to get production levels moving.
Jan also informed me during the call that the second rifle had not yet been assigned a serial number and that I could call back in a few days and try again. Finally she noted that the ammo we had ordered would be going out very soon and that the order was being processed that week.
Ammo For A Gun Not Yet Mine...
Jan was right! In fact Marla shipped the ammo boxes Jan was referring to on the 18th of November.
On the morning of November 19th a rather nervous looking FedEx driver rang the bell and deposited four heavy cardboard boxes with "Shipper's Declaration For Dangerous Goods" manifests on them in our entry-way. The ammunition had arrived! I won't digress here, but if you'd like some information on the ammo, packaging, and such please click here.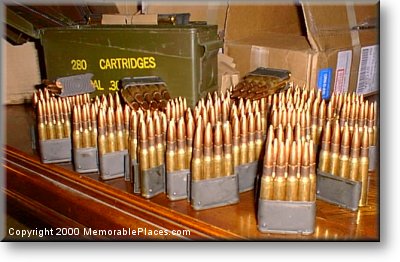 That same day I called back to ask about what I was now referring to as 'Dad's rifle' since I had already determined that the 225,xxx Garand was mine! This time I talked to Nina (I believe) and she informed me that his serial number was 5,423,xxx. This new information allowed me to look up when his rifle was made. It turns out Dad's rifle was produced in 1954 or 1955 only 2 or 3 years before M1 production ceased forever.
A Little Longer...
The waiting was to continue for only another week or so. Of course the holidays were coming on fast and there was a great rush to get ready so all thoughts of the M1s were put aside and we basically forgot about them. Yea right....
Five days later on November 24th another part of our CMP order trickled in. This time the jacket patches we had ordered arrived.
But we still were short a couple of rifles!
Please feel free to explore the other sections of this website:
[About This Website] [How I Maintain My M1s] [CMP Program - Our Experience]
[Our CMP M1 Garand Rifles] [CMP Ammunition] [M1 Parts Photographs & Nomenclature]
[M1 Garand Accessories] [A Little Important Humor] [Links to Other M1 Garand Sites]
This page was last updated on: June 16, 2007
In order to use this site you must read and agree to what is on our Legal Page.
Copyright 2000 - 2002 © by MemorablePlaces.com