Page 4
Christmas Early! Two Long Boxes -
Well the day we had been waiting for finally arrived. On Thursday December 2nd our M1 Garands arrived! Our nervous looking FedEx driver was back, this time carrying the elongated boxes that could only be one thing. WELCOME HOME! It was pretty exciting in a way. Christmas had come 23 days early and there was no way I was waiting for someone to stick these boxes under the tree!


One of the M1 Garand Boxes as it arrived from CMP.
The sturdy shipping boxes boxes which I was sure contained our rifles were securely held together by thick paper packing-tape and oddly enough the containers did not have any dangerous goods manifests on them. There was a sticker that warned FedEx that these items were not to be left unattended and required a special signature in order to complete delivery.
It was all I could do not to open the boxes I knew contained the M1 Garand Rifles before Dad was able to get there. Once he got in the door however the first order of business was to tear into the brown cartons like a couple of kids on their birthdays to see what we had gotten!
The Goods
Both of the shipping cartons were opened in turn and treasure hunt began. Starting at the top this is what we found.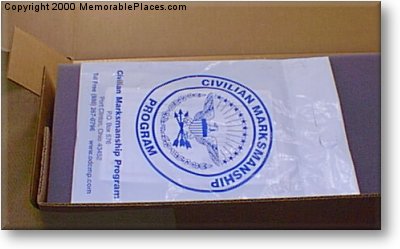 Just inside the M1 Garand box you'll find a CMP bag with goodies in it.
Upon opening the boxes we discovered a white plastic bag with the CMP logo on it. Inside this bag we found several documents. First, of course, there was an invoice/shipping document showing the usual information such as weight, contents, serial numbers of the M1 Garand rifles and such. Next was a photocopied application for membership in the Garand Collectors Association. (I am still puzzled as to EXACTLY what this group does, but for 16 bucks you get a 24 page GCA journal four times per year.)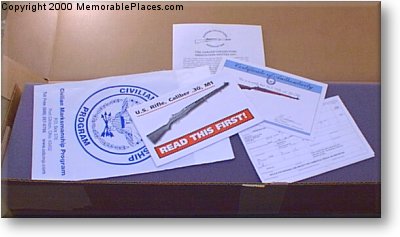 Goodies from inside the CMP bag
The CMP had also tucked in a colorful "Certificate Of Authenticity" into the bag. The certificate is printed on nice card stock and features the name of the buyer/owner, the serial number of the rifle, and the date of purchase.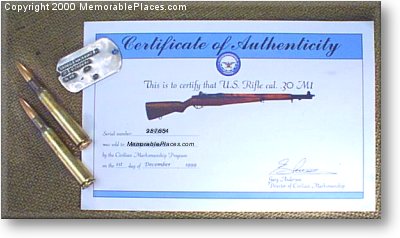 Certificate of Authenticity & Two 30-06 M1 Garand cartridges.
Finally, The CMP included a nice 38 page booklet titled "U.S. Rifle, Caliber .30, M1" subtitled "READ THIS FIRST". This glossy little manual is printed in 2 colors and is FAR better than many of the manuals that I have seen come with new firearms. This book covers the usual - nomenclature, loading, cleaning, etc. and it also has a very direct message in several places about firearm safety. The booklet is actually well written and easy to read. It is 'in your face' in the places where it should be. As an example, on page 5 it talks about the M1 Garand 's mechanical safety, "No safety ever invented can be relied upon to prevent an accidental shooting by a determined child or a grownup idiot "playing" with a gun." ...A pretty fair assessment I'd say.
The booklet also covers stoppages nicely and Garand maintenance pretty well. However I noted that there was limited room for photographs and I was left with some nagging questions (particularly on detail stripping the weapon) when I first tried to follow the book. In fairness however I must say again that this is one of the best manuals I have ever gotten even with a 'new' firearm.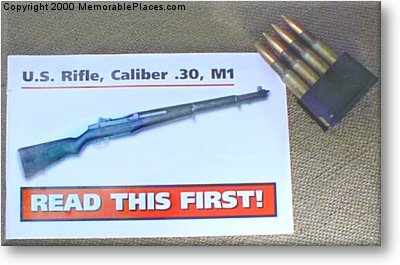 The manual that comes with all Garands sent out by the CMP.
Time to - Open it!
Please feel free to explore the other sections of this website:
[About This Website] [How I Maintain My M1s] [CMP Program - Our Experience]
[Our CMP M1 Garand Rifles] [CMP Ammunition] [M1 Parts Photographs & Nomenclature]
[M1 Garand Accessories] [A Little Important Humor] [Links to Other M1 Garand Sites]
This page was last updated on: June 16, 2007
In order to use this site you must read and agree to what is on our Legal Page.
Copyright 2000 - 2007 © by MemorablePlaces.com