Page 5
Open It!
In all honesty, I must confess that we didn't spend a lot of time looking over the documentation when we first cracked open the elongated shipping boxes. Nope.. no question about it, the first thing we did was to pull the M1 garand rifles out, check them to make sure they were unloaded, and ...well ...gawk at them!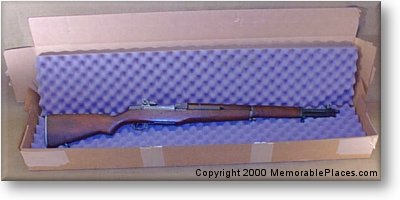 The Grand Garand Unveiling... ugh.. sorry :-)
As we opened the boxes we noted that the cartons were well packed and the rifles had stayed right in the center of the 'finger foam' padding during their transit. Early in the program The CMP had reportedly had problems with the older style shipping boxes. Our rifles however arrived in perfect shape thanks to the new style packaging.
So what did we get?
Before I briefly describe Our Garands please keep in mind that these Garand Rifles are 'old soldiers'. Indeed they could rightly be called pieces of history. Thinking people will surely deduce that any service rifle which would at a minimum be 47 years old would have a few bruises. To expect otherwise would be folly. Therefore when you read about problems below keep in mind the fact that M1 Garands are what they are - surplus military rifles that are over 50 years old!
The first M1 rifle we looked at was the 'younger' one.
Dad's Rifle
As we pulled the first rifle from the box we noted that it was the one with the later serial number... Dad's. As we looked it over we noted that this 'newer' rifle was darn near perfect! From top to bottom Dad's new 'toy' had great looks and a truly superb finish. I do mean superb! This was true of the finish both inside and out!
Overall his M1 garand was in amazingly good shape. We noted however that like any old soldier it wasn't 'perfect'. Dad's rifle sported two 'dings' on the fore-stock. When we examined it closely we noted that the deepest crease in the stock perfectly matched the curve of an operating rod handle. When the army packed these weapons for shipment to the CMP its obvious that they were not wearing white gloves and treating them gently. Surely the rifles were not treated as kindly as they will be in their new home - that is for certain!
The front and rear handgrips matched the stock perfectly and were a deep chocolate walnut color with an attractive grain pattern. The grain of the buttstock was tight and very pretty as well. In many ways the stock condition was a tad better than one would expect on a service rifle of any age.
The metal finish on Dad's m1 rifle was also quite amazing. The dark and deeply lustrous parkerizing was almost black and (except for the rare and occasional rub mark) it was almost perfect. The exception, as might be expected, was the gas cylinder. The gas cylinder finish on Dad's M1 Garand was indeed pretty worn down. (Stainless steel is hard to keep black.) The muzzle and barrel on Dad's rifle was simply fantastic.
There were two surprises on this rifle - first it came with an UN-cut operating rod and second there was a cleaning kit left in the buttstock.
And then it was time for my M1 garand rifle...
Please feel free to explore the other sections of this website:
[About This Website] [How I Maintain My M1s] [CMP Program - Our Experience]
[Our CMP M1 Garand Rifles] [CMP Ammunition] [M1 Parts Photographs & Nomenclature]
[M1 Garand Accessories] [A Little Important Humor] [Links to Other M1 Garand Sites]
This page was last updated on: June 16, 2007
In order to use this site you must read and agree to what is on our Legal Page.
Copyright 2000 - 2007 © by MemorablePlaces.com