Page 6
MINE ALL MINE!
Next we turned our attention to the second shipping box and as expected inside we found an older M1 garand rifle... mine. As we examined the the 1941-built rifle for the first time we noted that it was in 'well-used' shape.
The stock in particular had a lot of 'character'. There were a number of little dings nearly covering the wood. Of particular note we saw some very noticeable chipping at the base of the buttstock. The handgrips also had a number of dents and indentations. The pistol grip had a small hairline crack beginning to form around a tiny knot. As was the case with the other rifle the grips matched very nicely.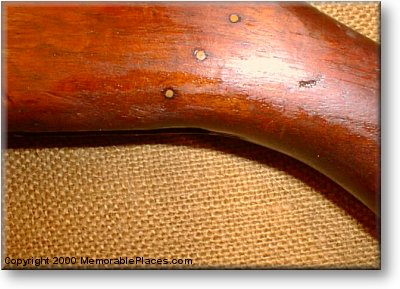 Pinning is evident at the wrist of the 1941 M1 Garand.
In addition we noted numerous brass 'pins' in the wood which we later learned were placed to reinforce the stock of the older Garand. (I note that in a reproduction of A War Department Technical Manual [TM9-1275] that it was common practice to do this pinning by placing small brass screws and then filing the heads off.) For more details and pictures go to the Our Garands page.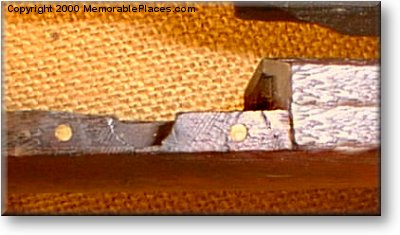 A total of 8 pins were used in reinforcing the stock of this M1 Rifle
What the older stock lacked in beauty it sure did make up in history.
There were three distinct purposeful markings on the M1 Garand stock. The first intentional marking is on the pistol grip - a P in a circle. This is a proofer's mark. It almost looks like this was struck twice one on top of the other. We also noted a worn number '43' painted in white on the buttstock. This was the rifle's rack number. Another mark reads 'SA' and is in a square box. This is a Springfield Armory cartouche. The final mark is an RIA-EB mark. I have it on good authority that this is a rebuild mark for the Rock Island Armory.
The metal finish on the older M1 Garand was pretty worn as well. This was to be expected however and in my eyes it doesn't detract much from the look of the rifle. It is evenly worn that's for sure. But this rifle has been through a lot and in some ways the wear is a badge of honor. If this rifle could only talk I am sure it would have an interesting story...
If there was a real disappointment however, it was with the barrel's bore at the muzzle. Upon inspection it was plain to see that the rifling for the first 2 or three inches was badly worn down.. almost smooth. I expect this was probably from years of cleaning rods that were not carefully handled. Though this was the original barrel the fact is that it probably wouldn't have shot for groups worth a darn...
Initial Impressions
Despite the rather rough exterior looks of the 1941 M1 garand rifle, we were initially genuinely pleased with what we received. As noted before, we made 2 special requests: 1) That one Garand was a WWII rifle. 2) The the other was a 'shooter' and from either the Springfield or Winchester Makers. Well we got exactly what we asked for. Both rifles were Springfields.
You can see a large number of photographs and in depth descriptions of the rifles themselves on my Our Garands page.
Now it was time to show off a little.
As might be expected I drafted a quickie web-page about our rifles and invited my friends from the online Garand forums to come have a look. (Hey even us big kids like to show off our new 'toys'.) What I did not expect was that CMP folks would be actively in on it too.
At that time I wrote the following in response to one of the notes I had received:
"I have been asked if I am disappointed in the older one. As noted before: Would I have liked to see a perfect bore? Of course. Would I like to have a little better stock? Sure... as long as all the markings were still there. But am I sad? No. This is 'my' rifle. There are many like it but this one is mine."

"While it is true that some people would look on 'my' rifle as being a bit beat up, and I can not argue with them on one level for that, on another level it is also a piece of timeless history. The weapon was made just before WWII opened. It was one of the first 251 thousand ever built. Well over 6 million M1Garand's were produced. As such, this rifle almost certainly played some role (however minor it may have been) in the war in which a truly great generation of Americans literally saved the world."

"I have no idea if this rifle was used to train men who would one day end up in the Ardennes. I don't know if it was sent to some remote place to stand watch with a shivering soldier in the Aleutians. It is possible that this weapon made its way into combat and helped to secure some long forgotten atoll in the pacific. Maybe it was just a demo weapon used by some grizzled old DI to show the 'kids' how a rifle worked. But no matter what its role, it did its tiny little part to save America, our constitution, and our way of life."

"The bottom line is that I only wish that I could have found a diary in the buttstock the way we found a cleaning kit in my father's. If this rifle could only talk..."
Well, I had no sooner posted my webpage link when one of the CMP Volunteers wrote me and congratulated me on the rifles. He also noted that they do not usually send the rifles out with 'pinned' stocks. A couple of notes were exchanged and to make a long story short, before I knew what had happened he had arranged for the CMP to send me a new M1 Garand Rifle Stock... at no charge.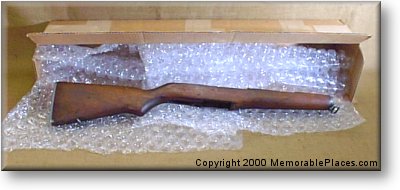 CMP sent this new stock within 48 hours.
The stock arrived in two days. What was even more impressive was that they let me keep the old one too!
A BOREing Story
One thing did continue to nip around the corners of my full satisfaction and that was the bore...
Please feel free to explore the other sections of this website:
[About This Website] [How I Maintain My M1s] [CMP Program - Our Experience]
[Our CMP M1 Garand Rifles] [CMP Ammunition] [M1 Parts Photographs & Nomenclature]
[M1 Garand Accessories] [A Little Important Humor] [Links to Other M1 Garand Sites]
This page was last updated on: June 16, 2007
In order to use this site you must read and agree to what is on our Legal Page.
Copyright 2000 - 2002 © by MemorablePlaces.com