A website like this does not spontaneously pop into existence without the help of others. Putting this M1 Garand website together was an exercise in learning for me as well as at times an exercise in mild frustration.
This page is placed simply to say thanks to those who have helped me knowingly or unknowingly along the way. At the bottom I also take a moment to show my readers a little behind the scenes stuff about the M1 newbie site as it has come to be known.
First The Thank-You's
First I'd like to thank my family for putting up with me when I invaded our dining area for 3 weeks with a bunch of oily gunparts, smelly burlap, cosmoline coated bayonets, overheating photo lights, bullets, china markers, army helmets, combat knives, 48 star flags, and all other manner of 60 year old war surplus.
Public Service Announcement: Ladies, if your husbands ever ask for the use of the dining room 'for a quick little web project' be prepared for a long lasting siege that will transform your meal area into something more akin to a garage.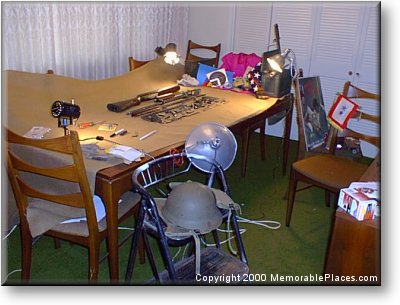 I am sure I also frayed the nerves of a few others with this project... Speaking of which:
I'd also like to offer my genuine and deep appreciation to the late Lane Smith a former Airforce pilot of Florida, who was probably the most helpful and patient M1 Garand expert that I have ever met. He declined the title 'expert' - but I always looked up to Lane Smith and without his help these pages would never have become what they have.
Despite having pressures of his own, Lane held me by the hand and walked me through much of my education on M1 Garand Rifles and he was also very helpful when it came to learning about the CMP. Lane took a personal interest in my rifle when it had problems and gave me valuable hints that resulted in a positive resolution in many areas.
Lane also proofed much of this site and offered help and suggestions on improving it. I retain responsibility for any errors or omissions.
Lane passed away the victim of cancer at the end of the last century. I miss him very much he was a fine individual who always was helpful and tried to better other people's lives in the ways he could.
There are countless contributors to the CSP Forum who taught me things that were of great value when I put this page together. There is no way to name them all but some of the names that come to mind are Ed Clancy, Eagle One, Col. Booth, Master Po, Bikerman, Bruce Canfield, Gus Fisher, Gunny, Joe, Bill, Mike, and even ShooterM1.
In addition special thanks go out to Orest Michaels, Nina Michaels, Jen, Kelly, and Jerry Shealy over at the CMP as well as all the others including the volunteers. These folks work VERY hard to make customers happy and are responsible for us receiving two fantastic M1 Garand rifles
Another unnamed individual helped with the photography of some of the parts listening to my often conflicting directions on how to photograph something when I needed both of my hands for the photograph.
Finally, I'd like to thank 'Jenn' my partner on this website. I originally met her while we worked together on another website. She spent several hours cropping, buttonizing and drop shadowing many of the graphics that you see in the section of this site. Her touch saved me a lot of time and trouble and allowed me more photography time instead of growling at Photoshop.
I am sure there are others who helped create this M1 Garand site that deserve mention who I have left out. No slight was intended if I did. I appreciate everyone who wrote to me answering daft questions and those who helped me with a number of 'smaller' questions and problems. Write me if I left you out.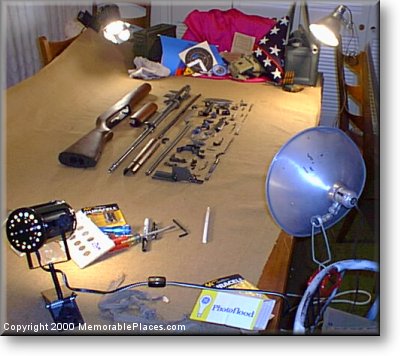 An exhaustive discussion on how this site came to be and how I did each thing would take a whole website unto itself. What follows is just a few of the highpoints of creating this webspace.
Click Here For A Look Behind The Scenes
This has been a fun project and the pages may be added to as time permits. I am actively looking to improve them so if I have made any errors, I am very interested in hearing about them. Don't be shy! Hit the mail button and tell me where I screwed up. You'll likely get a thank-you and not a flame.
Thank you for visiting this M1 Garand Rifle website and reading this page. I appreciate it! Feel free to tell you friends and to link it if you have a website of your own!
Please feel free to explore the other sections of this website:
[About This Website] [How I Maintain My M1s] [CMP Program - Our Experience]
[Our CMP M1 Garand Rifles] [CMP Ammunition] [M1 Parts Photographs & Nomenclature]
[M1 Garand Accessories] [A Little Important Humor] [Links to Other M1 Garand Sites]
This page was last updated on: June 16, 2007
Copyright 2000 - 2007 © by MemorablePlaces.com