Step Five: Remove Most Of the Spillover
The next step will be to remove MOST of the extra grease pencil without removing any of the white from within the lettering. This is a slightly tricky process. To do this step we LIGHTLY moisten another paper towel.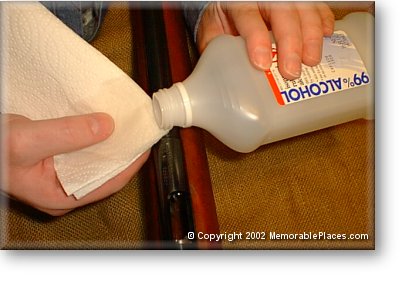 Probably the most tricky part of the process is to remove the extra grease pencil. Using the moistened paper towel we now use an up and down or side to side motion to scrub off the smooth part of the metal. It is important to watch very carefully as sometimes pressing too hard will remove the white from inside the letters... then it is back to step 4. As more and more of the white comes off we press less and less hard. The alcohol allows a tiny bit of flow so that some white can actually go INTO the letters if this is done with finesse.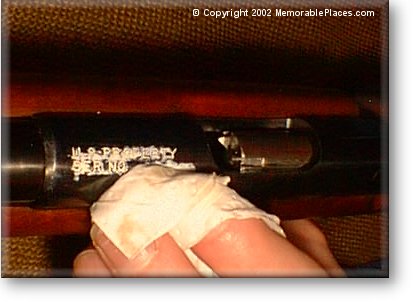 Please feel free to explore the other sections of this website:
[About This Website] [How I Maintain My M1s] [CMP Program - Our Experience]
[Our CMP M1 Garand Rifles] [CMP Ammunition] [M1 Parts Photographs & Nomenclature]
[M1 Garand Accessories] [A Little Important Humor] [Links to Other M1 Garand Sites]
This page was last updated on: November 26, 2003
In order to use this site you must read and agree to what is on our Legal Page.
Copyright 2000 - 2002 © by MemorablePlaces.com