Step Six: Final Removal And Polish
When nearly all of the extra white has been removed from the surface it is time to switch to a dry soft cotton cloth. This is used to buff off the last of the white and to clean the area.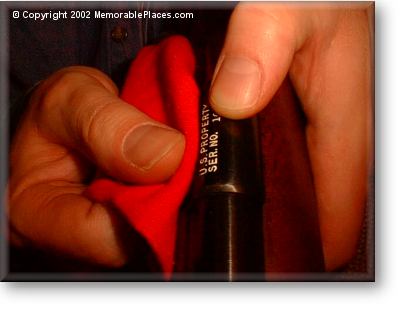 A silicon treated rag can then be wiped over the lettering gently and this will in theory protect the metal. It is possible to lightly oil the area but in some cases the oil can contaminate the white lettering and change its color a little bit. This does not happen every time... we believe it may have something to do with the type of oil used.
Click Here For Some Final White Lettering Thoughts
Please feel free to explore the other sections of this website:
[About This Website] [How I Maintain My M1s] [CMP Program - Our Experience]
[Our CMP M1 Garand Rifles] [CMP Ammunition] [M1 Parts Photographs & Nomenclature]
[M1 Garand Accessories] [A Little Important Humor] [Links to Other M1 Garand Sites]
This page was last updated on: November 26, 2003
In order to use this site you must read and agree to what is on our Legal Page.
Copyright 2000 - 2002 © by MemorablePlaces.com